Pure series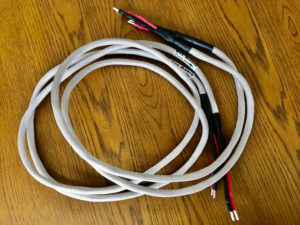 English:
The Pure speaker cable is a new design with 4 pure silver conductors isolated in pure cotton. The cable has a tinned braided copper shield and an outer shield made of pure fiberglass. It can be delivered with silver plated copper connectors from Wireworld in either spades or banana.
It gives a precise soundstage, is rich in detail, transparency, and it sounds very homogenic and warm with good controls of the speakers.
Dansk:
Pure højttalerkablet er et nyt design med 4 rene sølvledere isoleret i ren bomuld. Kablet har en skærm af fortinnet flettet kobber og en ydre kappe i ren glasfiber. Det kan leveres med sølvbananstik eller sølvgafler fra Wireworld.
Det giver et præcist lydbillede, er rig på detaljer, transparent, og det lyder meget homogent og varmt med god kontrol af højttalerne.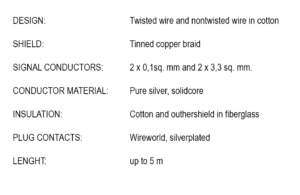 2x 2.5m, 7.500 DKK incl. VAT Buy here
Black series
English:
The speaker cables are made of 1 mm pure silver isolated in cotton and enclosed in a shield of PTFE. They are terminated with silver banana plugs from Wireworld.
Dansk:
Højtalerkablerne er lavet af 1mm ren sølv der er omsluttet af en kappe af bomuld og teflon. De er termineret med sølvbananstik fra Wireworld.
2x 2.5m, 2.500 DKK incl. VAT Buy here
2x 2,5m, 2.500 DKK incl. VAT Buy here
It is possible to produce up to 5 meters.
2x 2,5m, 2.500kr. inkl moms og fragt i DK Køb
2x 3m 2.900kr. inkl moms og fragt i DK Køb
Der kan laves længder op til 5 meter.